So...the video is out. Thank GOD! We started shooting this in January and due to schedules amongst the crew and myself, we just couldn't get back to it until the end of May. Thank you to the lovely Mary Priestly Jarrard for amazing work and not freaking out when the video didn't come out when we said it would hahaha. Thank you to Tabitha, Stephanie, & Elliot for actually WANTING to make this video a reality. Thanks to Gateway Macon because this entire 10,000 Hours process started with their belief in "Cherry Street". Thanks to MaryAnn Bates as well because you are just as much a part of this. Tabitha & Stephanie approached me a little bit after November with interest in doing this and pitched two different ideas. We took the best of the two & ideas that I had crafted and worked towards making the best possible story to follow "Cherry Street". We have only done two videos together (and a commercial) but I feel like they "get Floco Torres" if there is a such thing. This crew (Bright Blue Sky, Big Hair, SaS) is full of true professionals and they allow me to get my vision out at all cost. They don't make me do ANYTHING so people can stop with those remarks.
Tabitha's passion for understanding the meaning of the song made me more confident in it. She helped me intepret the song from an outisde perspective, I've always known what it meant to me when I wrote it. Originally produced by YFame 2 or 3 years ago, we re-created it in the studio during the 10000 Hours process with Steve Moretti. I'm so excited about this video because of the story to it. I had to push myself to and past physical and mental limits. We were on set at 5AM for the rooftop shot. I actually jumped off that roof, no mattress or anything to land on, DOING MY OWN STUNTS! What I mean is that this is exactly what the song meant to me when it was created. I hear from people all the time that this is their favorite record on the EP because of the music and the message. I'm thrilled that I can continue to relate with you guys on so many levels and work with people that are inspired to create. I initially wanted to write this to explain the video for those that don't get it but I changed my mind. Watch it 40 times if you have to, but take from it what YOU are supposed to take from the message. I found out that the bottom of my right foot might be broken but when/if we get to do a video for "Brenda", I hope I can be fortunate enough to break some other bone for this art! haha It's funny that as I'm typing this an Olympics promotion comes on and it's Michael Johnson sprinting... Catch Me. haha, Anyway. New album? At some point. New music? I've been listening to like 40 of the new songs for a few months now. For now, please share this with your friends and family. You can buy the song at the link below if you like. Thank you for listening, respecting, accepting, sharing and working towards your 10,000 hours.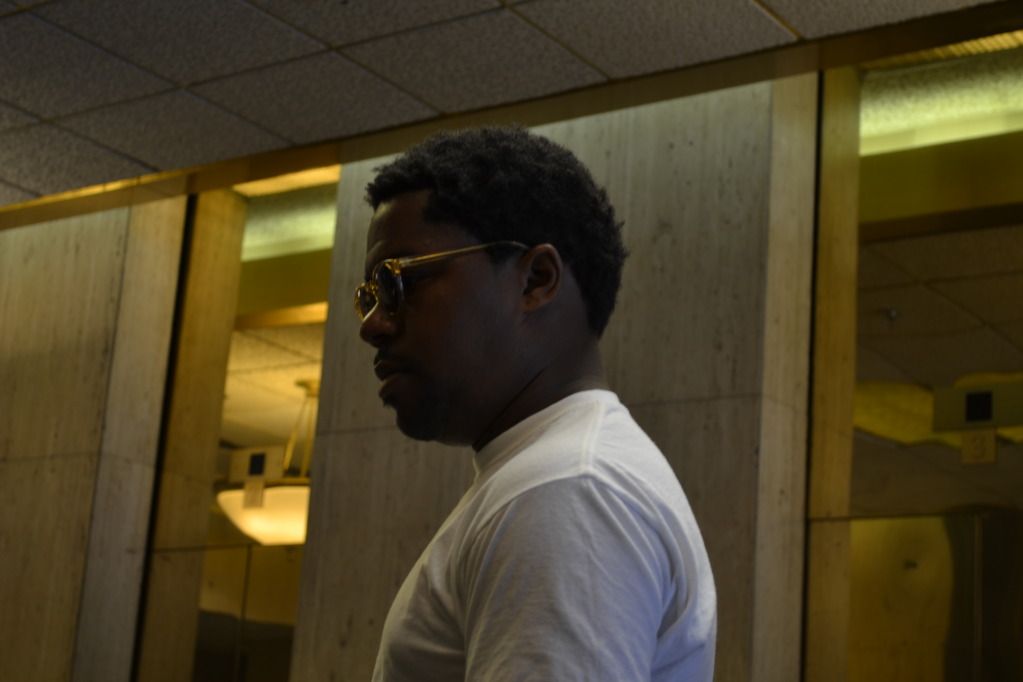 On set at the "Elevator scene". Wearing Steph's shades feeling like Theophilus London.